Michael J. Jimenez, MPT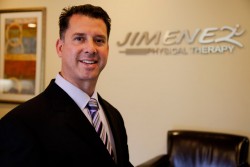 I've achieved dual degrees in Physical Therapy. I graduated 'Summa Cum Laude' from CSU, Fresno with my Bachelor's of Science Degree in Physical Therapy in 1993. I continued on with the CSU, Fresno Physical Therapy program to earn my Master's of Physical Therapy degree (MPT), graduating in 1994 'With Distinction' honors. I've been practicing in the outpatient orthopedic setting for over 18 years. My experience and expertise include treatment of the shoulder, knee, ankle/foot disorders, and cervical and lumbar spine, but welcome a challenging case outside my "comfort zone".
When not practicing Physical Therapy, I enjoy my family & hobbies. I have two sons, Kyle age 8 and John age 6. My wife of 14 years is also a part-time practicing Physical Therapist. No, she does not work at Jimenez Physical Therapy, but enjoys her work in the profession at Kaiser Permanente, Fresno. My hobbies are my children and being a father. I enjoy coaching and teaching them hobbies that I've learned to enjoy through my childhood including baseball, waterskiing, and snow skiing.
My passion in life is to give my "very best". This was taught to me by my father during my upbringing and remains a value I instill in everything I do. Whether it's being a father, a devoted husband, or a Physical Therapist, I strive to achieve my "very best".
Last Updated Friday, September 29, 2023 - 08:21 PM.