Judy Estrada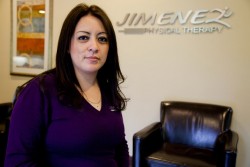 My role with Jimenez Physical Therapy is that of Front Office Intake Coordinator. I've been with Jimenez Physical Therapy since their early beginning approximately 9 years ago. I guess "time flies when you're having fun!" I'm the first to welcome you into our facility upon your arrival. I'm also the "voice" upon scheduling your first appointment over the phone. I am bilingual in English & Spanish.
When I'm not answering phones or scheduling your appointments, I enjoy my 3 children. I have a son and two daughters. They are the love of my life.
Last Updated Saturday, March 25, 2023 - 01:38 PM.