James R. Jimenez, MPT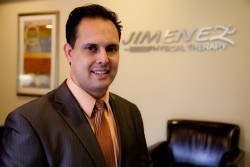 I graduated locally from the University of California, Fresno in 1999 with a Masters of Physical Therapy. I graduated in 1993 with a Bachelor of Science and a Minor in Philosophy prior to finding my heart set on Physical Therapy. My prior education and experience of Physical Therapy practice since has led me to accumulate a vast array of experience from working in outpatient orthopedics, acute care settings, rehab settings and athletic rehab. Everything from managing a facility to managing your injury and recovery has become my goal to perfect. You'll lean on my knowledge of rehab and begin to know me as the guy who fixes "everything".
When I am not at the office practicing physical therapy I enjoy getting outdoors and playing. Whether it be snow sking, water sking, hiking, cycling, or flying an remote airplane or piloting a real one.
I am the product of awesome parents who have always said to give to others what you expect in return, and that in every situation, has been no less than one hundred percent. To this day, I live my life striving to give you that one hundred percent as being the very best in the industry in both knowledge, efforts, and obtaining outcomes which are expected by you, your doctor, and myself. Hindsight is always 20/20 in any experience, and I am confident you will look back at your rehab experience knowing you chose right. I look forward to working with you.
Last Updated Saturday, March 25, 2023 - 09:30 PM.